Replacing your natural teeth is more than just trusting someone with your smile. Your appearance, your entire image, and your health are at stake. Your Denturist at Denture Designs & Implants is an expert, a specialist in the design, construction, fitting and adjustment of complete and removable partial dentures, as well as overdentures on implants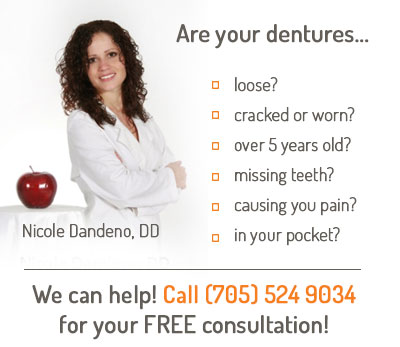 No charge for your initial consultation
STANDARD OR PRECISION DENTURES
Standard dentures may fit comfortably and chew well, but are designed for the average patient using basic tooth shades and shapes. Every denture patient – especially those with oral tissues which have resorbed (shrunk) or those who have unusual jaw relationships (bite) – may require a personalized denture that utilizes premium materials and precision techniques. With precision dentures, esthetics, comfort, fit and function combine to allow your smile to look more natural.
Precision dentures instill confidence and provide optimum function while eating, speaking or laughing.
Through the use of sophisticated instrumentation, from the impressions of your jaws to the specific jaw movements you make, all your facial information is recorded. Your Denturist is then able to recreate the character of your smile and restore the natural contour of your lips and facial muscles. Let your smile shine through!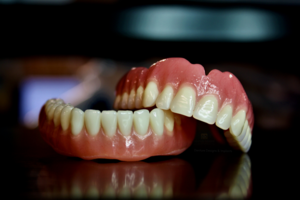 Standard Dentures:
We follow the guidelines to properly fabricate a standard denture. The teeth on our standard dentures are made with high quality acrylic. Average measuring and mounting devises for tooth set up. Great for the average size gums.
Precision Dentures:
Personalized dentures to instill confidence and stability. Use of premium teeth and high impact or injection molded acrylics. Further customized impression and bite using sophisticated instruments to record jaw relation. Placement of teeth with precise instruments to maximize chewing and stability. A precision denture is an excellent choice or someone who wants ultimate fit, stability, and natural looking teeth. This denture can also be used in conjunction with implants.
OTHER DENTURE SERVICES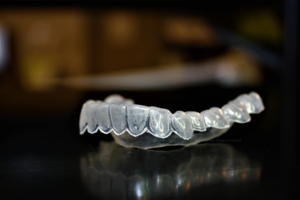 Teeth whitening:
A simple safe effective process to lighten your natural teeth. We provide you with a custom fitted tray that you can use at home along with a peroxide based gel. Tooth whitening can be used during the day or while you sleep. Tooth whitening can be done prior to denture or partial denture fabrication to achieve a whiter smile.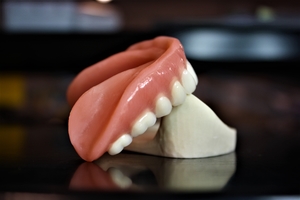 Soft liner:
Acts as a cushion or shock absorber between the hard-plastic base and the gums. Great for people with chronic soreness, thin gum tissue or resorbed ridges. A soft liner can be placed in an existing denture or in the fabrication of new denture. Recommended replacement for soft liner is approximately 3 to 5 years.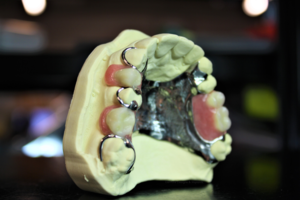 Removable partial dentures:
There are many different types of partial dentures. A removable partial is usually made to replace one or more natural teeth, and is customized to a person's specific requirements.
The number of remaining teeth, the position, and the stability of the remaining teeth are few of the factors that help determine what type and/or design of partial denture is required.
Partials can be made of different materials. The most common include; acrylic, metal/ acrylic combination, or flexible thermoplastic.
ACRYLIC PARTIAL

An acrylic partial can be made to replace one tooth and is referred t as a "flipper" or can be made to replace several teeth. An acrylic partial is usually made for a more temporary approach but can be made for long term use as well depending on a person's circumstances.

METAL-ACRYLIC or CAST PARTIAL

A metal-acrylic or cast partial is a more rigid and stable type of partial. It is made with highly compatible chrome cobalt alloys or titanium and the teeth are made with acrylic or composite teeth. These cast partials offer a thin, light and very strong prosthetic and allows for several different designs to best suite your requirements.

FLEXIBLE PARTIAL

A flexible thermoplastic partial can be used as an alternative to cast or acrylic partials. They do provide difficulties to repair but are great options for someone with allergies to metal or acrylics

PARTIAL ON IMPLANTS

A partial denture can also be made to fit onto attachments or implants giving you an excellent fitting partial without the need for clasps (wires) around your natural teeth.



Partial dentures do not harm the natural teeth if properly fitting. A partial denture can prevent your natural teeth from shifting or drifting into the space left from missing teeth. In fact, a partial denture can help maintain the position of your natural teeth by providing them with additional support.
Immediate dentures:
An immediate denture is a denture that is fabricated before your natural teeth are extracted and are inserted immediately following the extractions. Impressions of your teeth are taken by one of our denturists and a denture is fabricated that mirrors your natural teeth. Your dentist will place the denture in immediately after the teeth have been extracted. The benefit of immediate dentures is to avoid the situation of being without your teeth while your gums are healing. It is important to follow the postoperative instructions very carefully to aid in a quick healing process. As healing occurs, the oral tissues will shrink, and you may require a few adjustments from one of our denturists. During the next few months, the bone and gum tissue will resorb at a fast rate. Adjustments during the healing process is normal and to be expected. As your gums heal they change and the denture can get loose and will need to be refitted periodically. After the healing process is complete your dentures will be relined, or we will start the fabrication of your new dentures.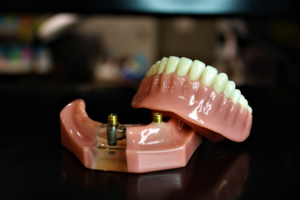 Dental Implants:
Dental implants are the closest possible replacement for your natural teeth. They have a long clinical history and excellent success rate. The implants are a substitute root tip that maintains the integrity of the bone and form a stable foundation for full or partial dentures. implants help to preserve the bone by stimulating it as the tooth once provided. Implant retained, or implant supported full dentures are made to fasten onto implants in various ways. The Implant retained or supported dentures can greatly improve self confidence and quality of life by providing better stability, security, better chewing ability, and provides an overall more natural feeling.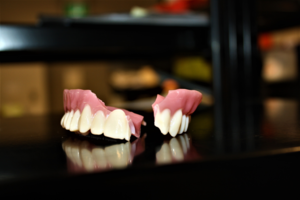 A repair may be required when a tooth breaks or crack happens due to dropping your denture or wear & tear.
Most repairs can be done the same day and in some cases while you wait.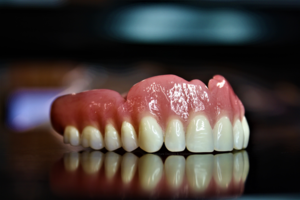 Relines consist of adding new pink material to the tissue side of a denture to ensure a tighter fit. Relines affect only the fit and not change your appearance at all. Relines may be required when there is a change in your gums due to:
- weight loss
- loss of teeth
- loss of bone