DDI has been serving communities in the Greater Sudbury Area for over 30 years and we proudly continue to offer you the outstanding service and quality you have come to know and trust.
Our mission is to provide our patiens with exceptional services and high quality products with our up-to-date techniques and the use of advanced technologies.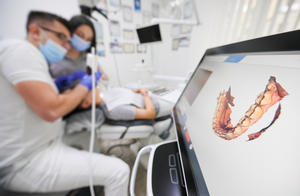 We use an intraoral scanner for more accurate and less hassle impression taking. The scanner scans the patient's teeth and gums producing a digital copy, eliminating messy impression taking.
On top of our traditional dentures, we offer digitally designed dentures, giving us an advantage to provide accurate, high quality and personalized products.
Our office has a dental laboratory consisting of skilled dental technicians. Having a dental laboratory and equipment to digital dentures gives us advantages to provide patients products with a personal touch.
Our denturists and dental technicians are skilled and trained in traditional denture fabrication, which is a strong foundation to designing dentures digitally.


We offer denture services such as, complete dentures, partial dentures, dentures on implants and immediate dentures. We also offer relines, same day repairs, gingival toning, denture teeth staining and tooth whitening.
As denturism continues to grow, we make sure we are up-to-date by attending seminars and courses on a regular basis. We continue to learn on a regular basis to provide you with the newest techniques and high quality products made.
We look forward to serving you - contact us today for your free denture consultation »